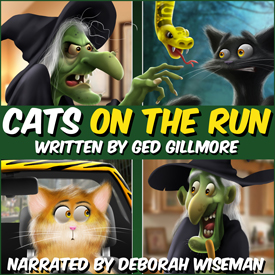 Cats On The Run
The best selling kid's comedy is now an audio book!
Prepare to laugh out loud all over again as Tuck & Ginger run for their lives in the brand new audio book. This is the purrrfect audio book for pepping up boring road trips, and is a hoot for school holidays. Get your copy now! (and it's FREE when you sign up to Audible here!!!)
Click here for a short sample clip (and check out the hilarious bloopers below!)
Meet the Narrator –

Deborah Wiseman

!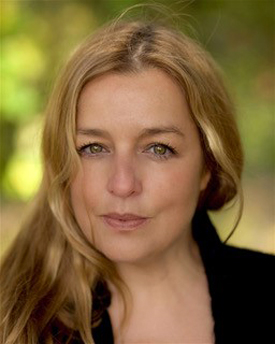 Deborah – is this the first audio book you've voiced?
No, I've done others, but I can tell you it was definitely the funniest. Some of the scenes made me cry laughing. It took a long time to record due to all the giggling fits in the recording booth. The audio engineer, Graham Tully, was VERY patient. Listen to the bloopers and you'll see what I mean!!
Have you really met the real-life Tuck and Ginger?
I have! A few years ago, on holiday… Ginger is cool, she has six bellies and is always hungry. Tuck…well I didn't get to meet him for the first few days, but then once he got to know me he was my best friend and followed me around everywhere. He's a real cutie.
Who was your favorite character to voice, and why?
Oh, that's a toughy. They were all so different. If I had to choose one…eek…it would probably be Janice Burringo. She laughs, she cackles, she flirts with Rodney to get what she wants. I really hope people like what I've done with her. But I really did love all the characters…such a varied cast of characters. Cats On The Run was a delight to narrate.
Deborah's bio
Deborah Wiseman is an Actor/Writer/Voiceover Artist, based in Dublin, Ireland. Originally from Galway, Deborah trained at Dublin's Gaiety School of Acting, and Focus Theatre, as well as at the Margie Haber Studios in Los Angeles. Recent work includes:
Voicing all the female characters in 'Brewster the Rooster' cartoon for RTE Junior (May 2017)
Voicing multiple voices on 'I am a Fish', a cartoon for RTE (the Irish national broadcaster).
Book Excerpts for Arena Arts show on Radio 1
Voicing numerous commercial radio ads for Aer Lingus, Danone, Pfizer, Wrigleys, Haliborange, Government departments and RTE
Recording Volumes I and II of Irish Legends and Fairytales with The Sunday World for a National give away.
Spotlight CV      Frontline Actor's Agency CV      Volcanic Voiceover Talent Agency CV      IMDB Deborah Wiseman